On June 21, 1998, the Los Angeles LGBT Center opened The Village at Ed Gould Plaza, which houses the Lily Tomlin/Jane Wagner Cultural Arts Center. With responsibility for two theatres and two gallery spaces, the Tomlin/Wagner Center has grown to become a leading Los Angeles-area presenter of performance and visual arts.
For the first time, the internationally celebrated creative team of Lily Tomlin and Jane Wagner agreed to lend their names to an outside endeavor, a unique collaboration with the Center and the Silva Watson Moonwalk Fund. Ms. Tomlin and Ms. Wagner saw that our dedication to service and to improving people's lives through art resonated deeply with their own values.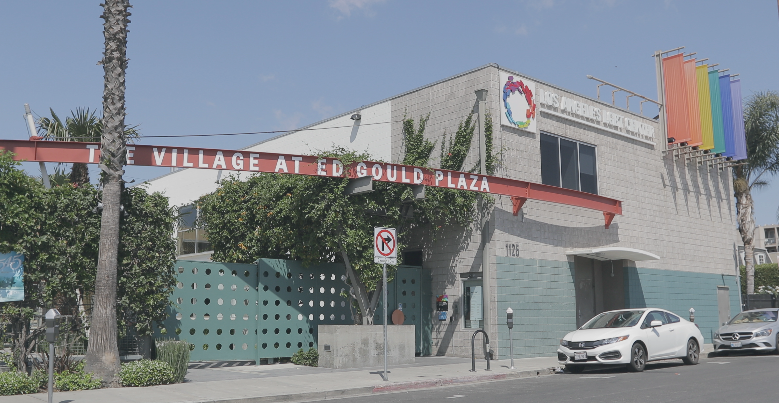 The artistic work created and produced by Tomlin/Wagner helps transform the perception of LGBTQ culture. Performance and visual arts create powerful, sometimes controversial dialog that brings together all people, regardless of race, age, sexuality, or gender. Whether presenting established artists or developing innovative and experimental works, its productions and exhibits illuminate the trials, triumphs and truths of life.
Our 200-seat, state-of-the-art Renberg Theatre produces the highest quality theater, music, and comedy. Whether launching new careers or spotlighting well-known artists, its productions shed light on the diverse lives of our community, celebrate our uniqueness, and contribute to making our environment a place of integrity, safety, happiness, and community.
The Davidson/Valentini Theatre—a  50-seat, black-box performance space—is the venue for most of our fully staged, extended-run plays. The DV has also developed experimental, innovative, and emerging artistic work that explores areas beyond the mainstream.
The Advocate & Gochis Galleries provide a unique and progressive space to exhibit high-caliber works by developing and familiar artists and promote the central importance of art in our identities and experience.
The original funds for the Lily Tomlin/Jane Wagner Cultural Arts Center were contributed by the Silva Watson Moonwalk Fund, a San Francisco charitable organization created by Douglas Watson and Larry Silva. The Fund was named to commemorate the day they met, July 20, 1969, when humans first walked on the moon. The Tomlin/Wagner Center is deeply grateful for the trust and generosity of Ms. Tomlin, Ms. Wagner and the Silva Watson Moonwalk Fund. In the ensuing years we have also benefited from the extraordinary generosity of Emily Lillian Gochis, who supported our Galleries; and the Joseph & Fiora Stone Foundation, who provided essential funds for many of our fully staged, extended-run plays. We extend our profound thanks.
Everyone who attends our productions and purchases artworks also contributes to the Center. Net proceeds from all ticket and art sales are used to support the Center's complete array of free and low-cost programs and services. Thank you to every one of you