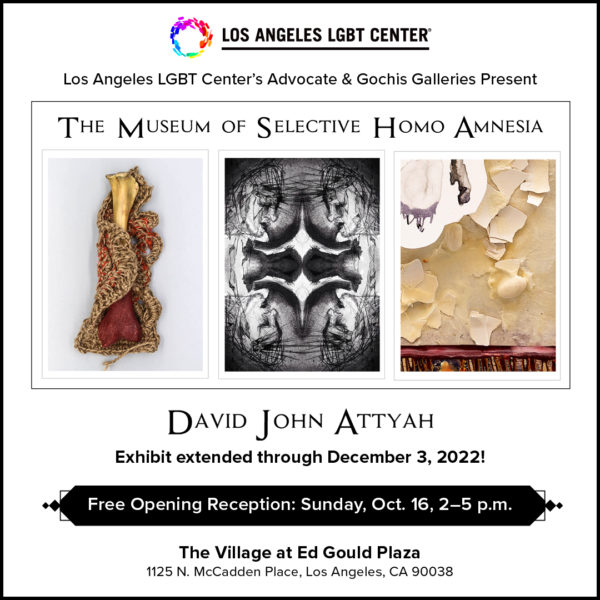 The Museum of Selective Homo Amnesia is a multi-media art installation, styled as a faux natural history museum of artifacts from an erased, mythical history of queerness. The exhibition consists of drawing, crochet, photography, hand-built cabinetry, and small sculpture in ceramic, plaster, wax, wood, and paper. The exhibition also includes a companion essay of fiction, written from the desk of a melancholy queer archeologist. The Museum questions origin stories about human sexuality and gender and proposes that our present identities would benefit if the past were imagined as more inclusive, fluid, and humane. All of the artifacts and cabinetry in The Museum were fabricated Attyah, from 2018 to 2021.
Attyah's studio practice is principally grounded in experimental drawing, though his mixed-media projects span printmaking, photography, and installation. Attyah's work focuses on the experience of queerness, exploring ideas of deconstructed masculinity, male emotionalism, stigma, fragility, queer intimacy, eroticism, and nostalgia.  
The Museum of Selective Homo Amnesia  is Attyah's third exhibition at the LGBTQ Center, following THINK AGAIN: Selected Public Work (with artist S.A. Bachman) in 2012 and Closet Door in 2015.  Beyond his studio practice, Attyah has had significant experience in LGBTQ community arts.  He founded community art space PhlatPhile in Los Angeles from 2012 to 2016 and co-founded of activist/artist collaborative THINK AGAIN from 1997 to 2012.  In 2014, Attyah co-wrote the collaborative mural curriculum entitled Retratos e Historias, which debuted at Outfest in Santo Domingo DR in 2014 and was later modified for the LA LGBTQ center's trans-youth mural project for entitled We Can Be Heroes (2015, 2016). Attyah also co-produced DragAngeles with the LGBTQ Center, which appeared at the West Hollywood Public Library in 2016.
Attyah is currently full-time faculty in studio art at Glendale  Community College, since 2005.  Attyah's full bio and links to publications can be viewed at
http://www.dja-art.work/now.
The Museum of Selective Homo Amnesia
By David John Attyah
Open for viewing October 5 – December 3, 2022
Free Public Reception: Sunday, October 16, 2-5 p.m.
ADMISSION:
Free
GALLERY HOURS:
Wednesdays: 5-7 p.m. Thursdays: 3-5 p.m. Saturdays: 11 a.m.-2 p.m. Or by appointment: please contact
[email protected]
Guests are welcome to visit The Village Monday-Friday 3-7 p.m., but gallery access is not guaranteed due to other public and private event reservations. To access gallery, please press exterior call button to be buzzed into The Village by security.
LOCATION:
Advocate & Gochis Galleries The Village at Ed Gould Plaza 1125 N. McCadden Place, Los Angeles CA 90038
PARKING:
Free parking located in underground structure: 1118 N. McCadden Place LA 90038
PUBLIC HEALTH POLICY:
Proof of vaccination and photo ID required. Masks are required in all indoor spaces and strongly recommended outdoors.