It's the summer of '69. In a dangerous cocktail of oppression and heat at New York City's underground gay nightspot The Stonewall Inn, a routine police raid erupts into a full-scale riot, igniting the LGBT rights movement. Smash that event against the vivid theatrical imagination of playwright Ike Holter, add live original music by Anna Waronker (That Dog) and Charlotte Caffey (The Go-Go's), and you get an immersive theatrical remix that thrusts you to the center of Stonewall. 
Hit the Wall premiered at the Center's Davidson/Valentini Theatre on September 19, 2015.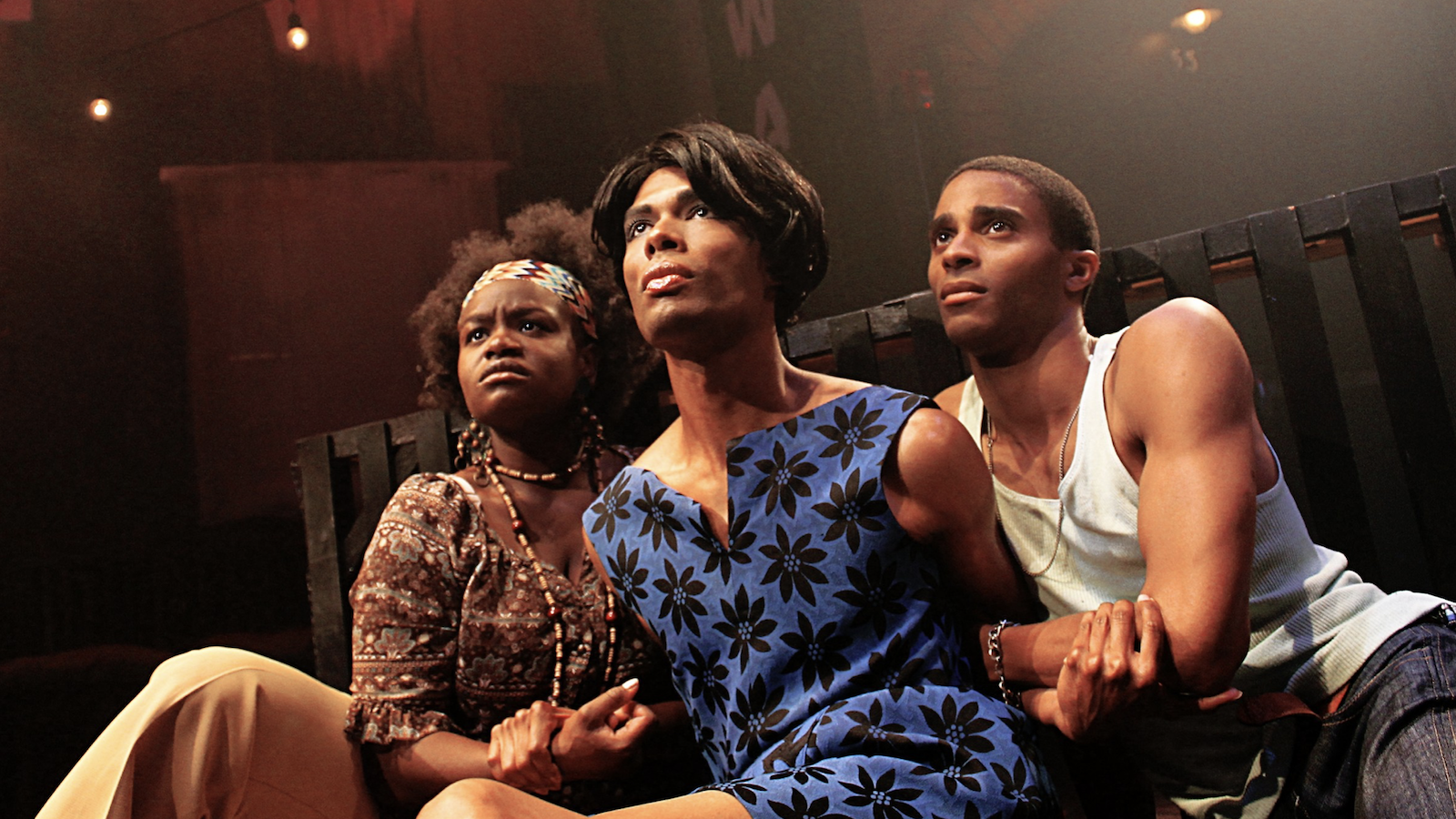 Written by Ike Holter
Directed by Ken Sawyer
Original Music by Anna Waronker and Charlotte Caffey
Produced by Los Angeles LGBT Center/ Jon Imparato and Sixth Avenue/Adam Silver
Directed by Ken Sawyer; setting by Desma Murphy; costumes by E.B. Brooks; lighting by Matt Richter; original songs by Anna Waronker and Charlotte Caffey; sound by Ken Sawyer; choreography by Yusuf Nasir; fight choreography by Edgar Landa; properties design by Norman Cox; dramaturgy by Lisa Sloane; casting by Beth Ryne & Jami Rudofsky; production stage manager Rebecca Schoenberg; production manager Patricia Sutherland; assistant director Shaunessy Quinn; press representative Ken Werther Publicity; and crew J. Cody Andersen, Megan Benevente, Red Colegrove, Adam Earle, Kathleen Jaffe, Minta Manning, Maggie Marx, Caitlin Rucker, Dailia Vann, Lindsay Vickers
Jason Caceres
Burt Grinstead
Charlotte Gulezian
Matthew Hancock
Kristina Johnson
Roland Ruiz
Shoniqua Shandai
Adam Silver
Donnie Smith
Blake Young-Fountain
Maggie Marx, Daniel Olson, Jess Weaver
Newbie
A-Gay
Peg
Carson
Madeline
Tano
Roberta
Cliff
Cop
Mika
Ensemble
Johanna Chase
Jennifer Lin
Nicole Marcus
Guitar
Keyboards
Drums/Percussion
"[This is] the stuff of great theatre ... a daringly staged, thrillingly visceral West Coast premiere. The Los Angeles LGBT Center has one explosive hit on its hands with 'Hit the Wall.'"
"Full-bodied passion that raises the roof … This is the best small theater production of 2015."
"An immersive theatre experience filled with energy and adrenaline pumping action. Prepare to have your world rocked."
"Steel yourselves for 'Hit the Wall' ... a stunning immersive production, courtesy of director Ken Sawyer, a shrewd design team, and a selfless cast … Don't miss it. CRITIC'S CHOICE."